För tjänsten finns en kanal på https://forum.sunet.se/s/tal-till-text/
FAQ
Varför ska vi teckna ett avtal för Sunet Tal-till-text när vi redan har REACH i Kaltura? 
Svar: Sunet Tal-till-text är en helt fristående tjänst som även lämpar sig för transkribering av ljudfiler, t ex intervjuer. Verktyget är helt webbaserat och inget kan kopieras, delas eller laddas ner av nån annan än den som äger materialet. 
Kan vi teckna ett avtal för Sunet Tal-till-text utan att ha Kaltura? 
Svar: Ja. Det finns ingen koppling mellan Sunet Tal-till-text och Kaltura. Sunet Tal-till-text är inte en lagringsyta för material. När transkribering eller undertextning är klar laddas den ner för användning till andra tjänster. 
Är det skillnad på resultatet från Sunet Tal-till-text och REACH, det är ju samma leverantör? 
Svar: Skillnaden ligger i hur texten presenteras vid en transkribering och hur du som användare kan ladda hem den. Sunet Tal-till-text har fler funktioner för filtyper och redigering. 
Ex redigering av transkriberad ljudfil via Sunet Play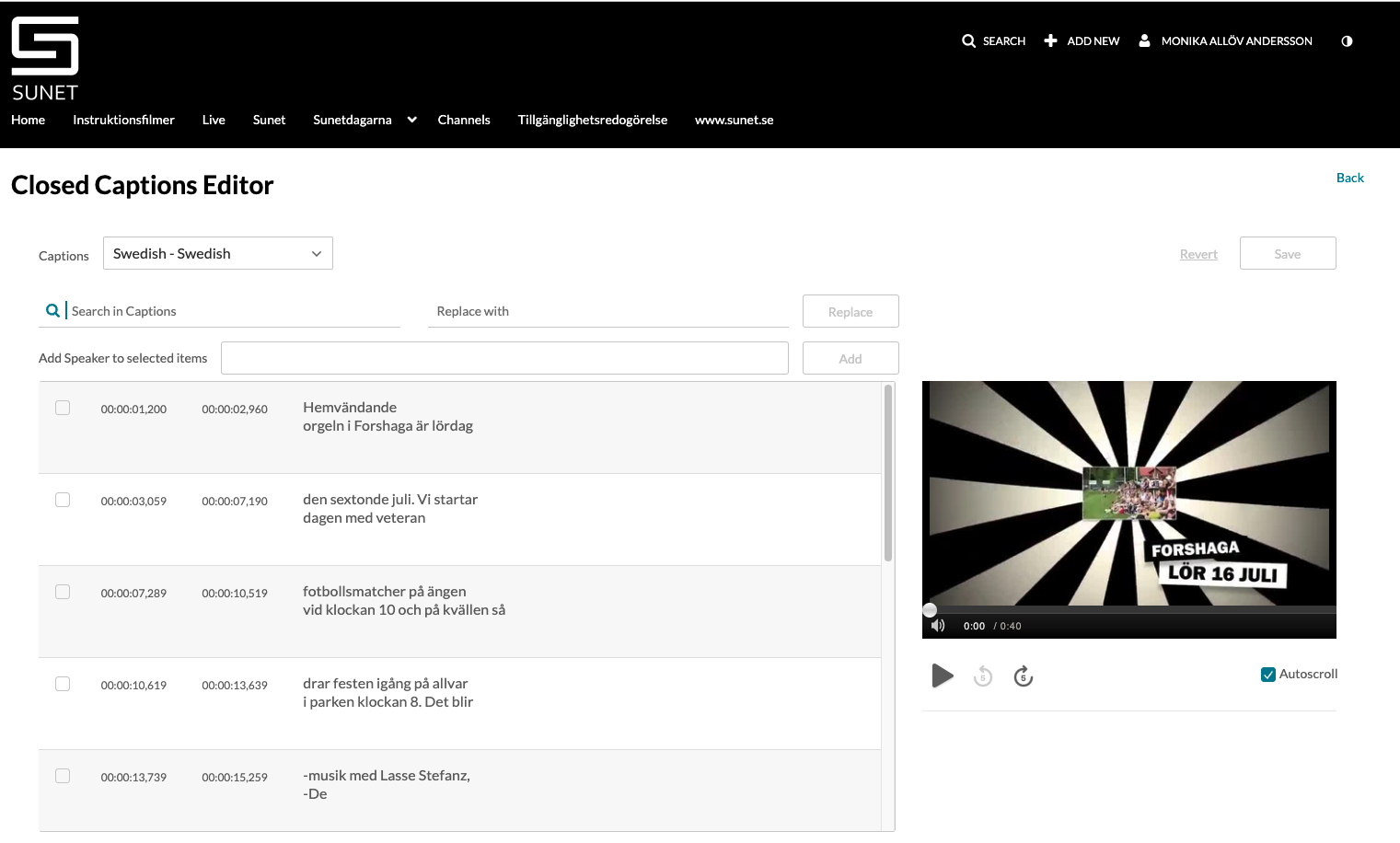 Ex redigering av transkriberad ljudfil via Sunet Tal-till-text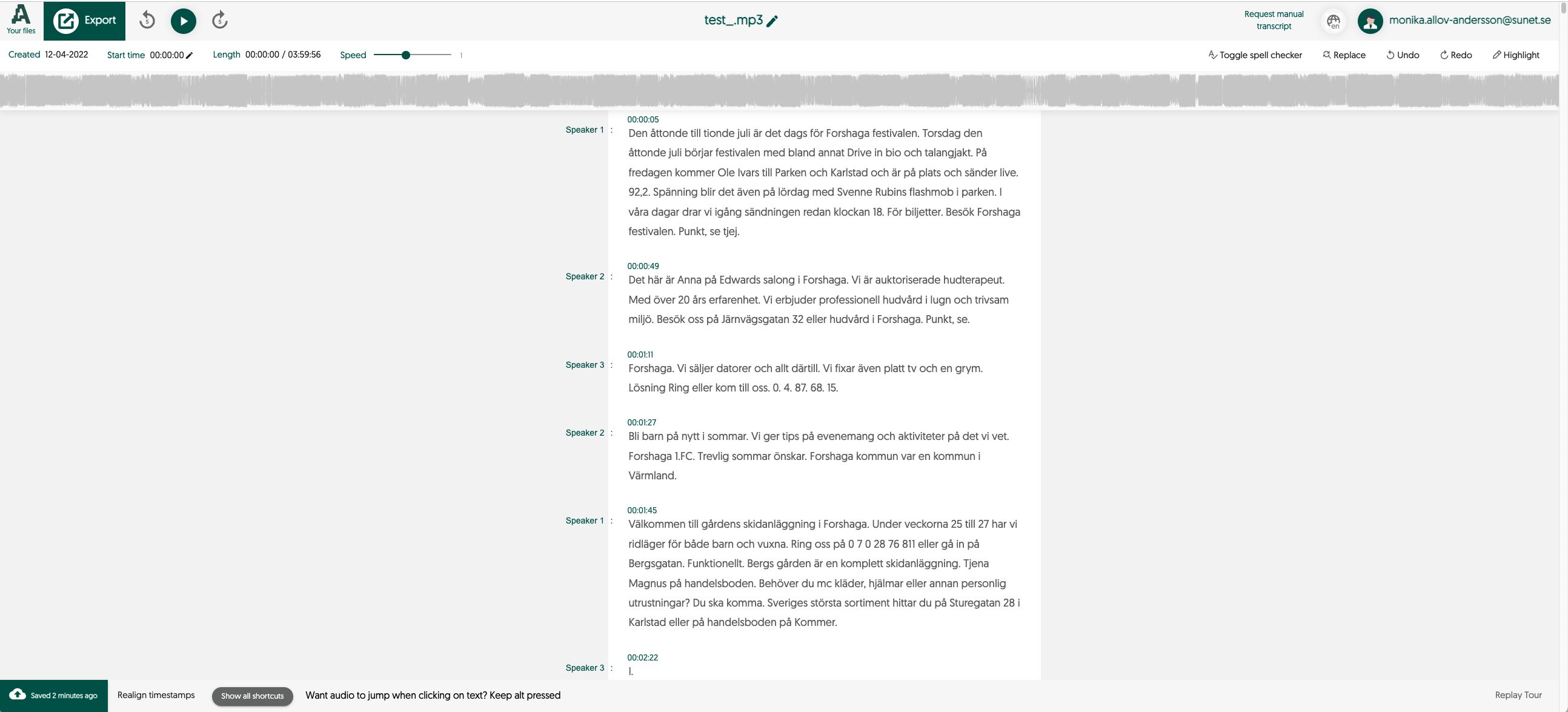 Hur kan jag använda det jag skickat in för transkribering eller undertextning? 
Svar: Beroende på vad som beställts så kan det laddas ner i olika filformat. En text kan laddas ner som Word Doc eller .txt och det går att välja om time-stamps och speakers ska vara med i filen. Undertextning kan laddas ner som .srt, .vtt eller .ebu-stl beroende på vart filen ska användas.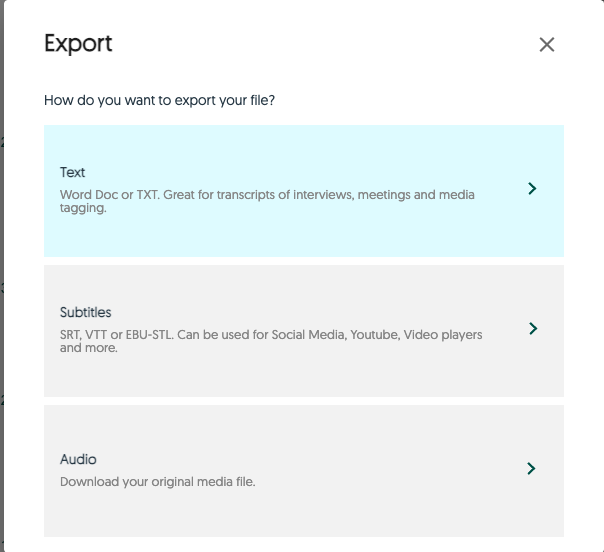 Vanliga frågor:
What input formats for sound files can be handled by the system? AAC, DSS, FLAC, M4A, MP3, WMA för ljud. För film: MV4, MP4 och MOV
What format for export of transcribed text is available? Is it for instance possible to export Word-files? Ja, WORD funkar, men också JSON, CSV och Text
Is there support for export of transcribed material into other systems? Which systems? Det finns möjlighet att integrera med API.
Can the system learn special terminology or is it possible to order special trained versions? För att få exakt transkribering finns möjlighet att beställa manuell transkription. Det finns också möjlighet att lägga till ordlistor. 
Can we make a secrecy agreement or NDA with persons involved manual transcriptions as this is sometimes needed for data with high confidentiality? Alla som utför manuell transkribering har skrivit sekretessavtal med Amberscript. 
Is the system available for all available web-browsers? Det fungerar med de vanligaste, dvs Safari, Google Chrome, Edge, Firefox.
Is there any need for additional installations or technical requirements on local computers? Nej. 
If correctly understood we can use SSO for logins to Amberscript. Ja. Avtalet med Sunet gäller för SSO-inlogg. 
Are all accounts personal or can we also use group based accounts or are there other ways for users to cooperate? Om ni använder er av funktionskonton som har SSO-inlogg så går det bra att använda det. Det är inte möjligt att se varandras filer i systemet. 
In this case we are assuming a site license for all employees, is this correct? If not, how are users authorised to the services? Can we do that from our side? Det stämmer att om ni tecknar avtal så kan alla med SSO från er logga in. De kan däremot inte göra något i tjänsten förrän de tillhör ett Team. Alla Team har en Teamadministratör som ansvarar för att lägga till medlemmar. Teamadministratörerna sätter behörighet på sina Teammedlemmar, om de ska ha rätt att beställa bara automattranskribering eller både automat- och manuell.  
Is there a contact for answering more detailed questions related to security? Is there any documentation of your security measures that we can take part of? På vår wiki: https://wiki.sunet.se/pages/viewpage.action?pageId=112166411 finns mycket information och också dessa länkar: 
https://www.amberscript.com/en/data-security-and-privacy/    https://www.amberscript.com/en/privacy-policy/.  
You use AWS for storage can they access the data? Nej, de kan inte nå datan. Nycklarna till den krypterade datan förvaras hos Amberscript. 
Are there any other subcontractors that theoretically can access the data? Do your have agreements regarding treatments of personal data with those? Are there any other subcontractors? Nej, inga andra kan komma åt datan och det finns inga underleverantörer. Det finns en DPA mellan Sunet och Amberscript men vi behandlar inga personuppgifter så därför tecknar ni en egen DPA med Amberscript.